Knidian Ceramic Workshops
The archaeological surveys in 1980 under the direction of Prof. Dr. Numan Tuna at the central part of the Cnidian territory have revealed several ceramic workshops active from the middle of 4th century BC to the 6th century AD, their mass production falls around the middle of 2nd century BC. The production site was located near to the township of Re?adiye which is 3 kilometres north of modern Datça. The density of the ceramics on the surface can be seen next to a small side-road leading to the village of Hızırşah from the modern Datça-Marmaris highway. The types of ceramics produced were amphoras and coarse wares.
An archaeological rescue project had been accomplished by a collaboration of Turkish and French archaeologists under the supervision of Dr. Tuna and Dr. Jean-Yves Empereur from 1986 to 1992. The area of the workshops stretches out one kilometre square which was systematically scanned using geophysical prospection techniques. Electrical resistivity method was partially applied to locate the stretch of the antique walls. 1988 excavations brought to light big ceramic kilns, wetting tanks, cisterns associated with the workshop activity and layers of ceramic dump which was gradually filled in.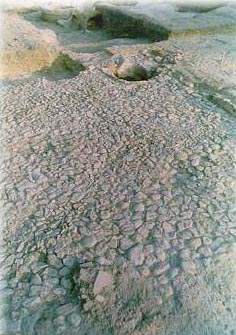 Stone paved wetting tank.
The production had started at the field No.25 stretching out to an approximately 700 metre square area: here workshop activity was attested by three kilns of the Hellenistic period. Field No.3 has given evidence of a 4th century BC kiln which was excavated totally. The layers of dump were partially excavated at the field No.41, in which was the dumped ceramics and wasters from the production of Damokrates and Skirtos workshops.
The field No.25 has given phases of production activity: the Archaic pottery in dumped layers pinpoint to an Archaic period activity, but the production in the Archaic period is not clarified yet. The production in the Hellenistic period had started at the kiln F3, here amphoras with ship prow stamps on their handles were produced. Kiln F1 and clay wetting tanks at the area between the Wall M7/M15 have given evidence for the second century BC production. The area of kiln F1 was altered and reused in the 1st century BC by Nikagoras workshop, new walls had been constructed to enclose the workshop area. Here the last phase of use and alteration took place in the early Byzantine period.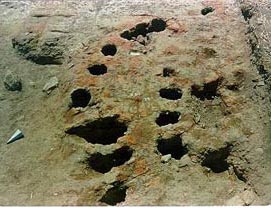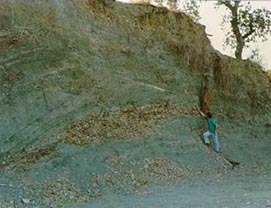 The remains of the kiln No.F2 - venting holes. The ceramic dump in layers.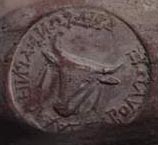 Amphorae stamped handle from The Hellenistic stamped amphorae handle with ship prow.
Damocrates' dump ca. 97-90 BCE.
---
Last Updated:
25/04/2022 - 16:40